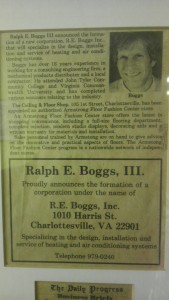 Welcome To R.E. Boggs, Inc.
For the past 30 years, R.E Boggs has been the leading provider of heating, air-conditioning, and plumbing services to the greater Charlottesville area.  Excellent service is what we are about, and that is what we promise to every one of our customers.  Whether you need a simple repair, a new installation, or a whole system design, we at R.E Boggs can get it done efficiently.
We invite you to discover why so many Charlottesville locals choose R.E Boggs:
SERVICE:   At R.E Boggs, we take pride in offering the best range of products and services to Charlottesville.  We offer a variety of heating and air-conditioning options so that you can choose what is best for you.  Having trouble with a current system?  Then call us.  Our technicians are available 24/7 to provide you with the help you need to stay comfortable in your home or office.
EXPERIENCE:   There's no company in the area that hires a more professional staff than R.E Boggs.  Our technicians average 26 years in the field, and are experts in solving your problems quickly.  Whatever the issue, we've seen it and know how to help.
COMMUNITY:   R.E Boggs is proud to be part of the Charlottesville community.  As a locally owned and operated business, we firmly believe that every job we take is an opportunity to serve the public and better the local area;  that's why we promise to deliver outstanding work at all times without exception.  We uphold the highest standards of quality at R.E Boggs because that is what the community deserves.