R.E. Boggs Inc. offers special discounts
for Military & Senior Citizens
Speak with your Technician to see how you can take
advantage of our Military & Senior Citizens Discounts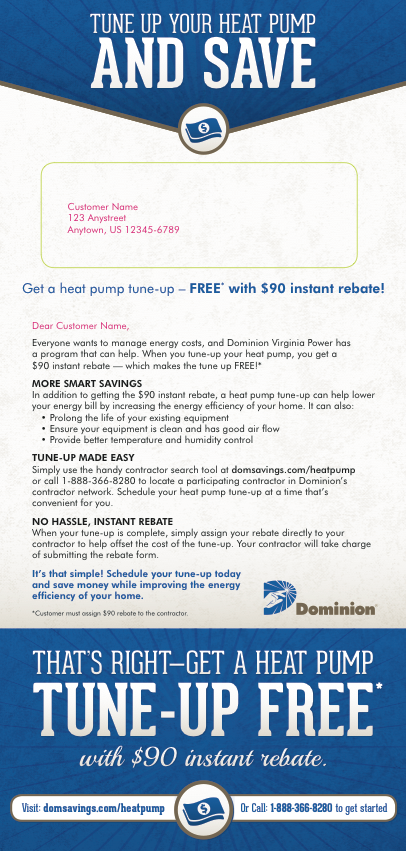 Who is eligible to participate in the Heat Pump Tune-Up program?
This Program is open to Dominion Virginia Power residential customers living in single-family residences, townhomes, and multi-family (apartments and condos) dwellings with electric heating and cooling with an air source heat pump.  Ductless Mini-Split systems are also eligible, however Packaged Terminal Air Conditioners (PTAC) and water source heat pumps are not.  Mobile homes are not eligible.
Customer must be on a residential rate schedule.  Customers must also be responsible for the electric bill and either own the home or be able to secure permission from the owner to perform the repairs or improvements recommended. Units in operation for less than six (6) months are not eligible to receive a tune-up. Homes with gas or oil-fired supplementary heat do not qualify. Units must be in working condition prior to tune-up.
Why should I participate in the Heat Pump Tune-Up program?
Dominion's Heat Pump Tune-Up helps customers manage energy costs.  This program can help reduce costs while improving the efficiency of your home.
A Heat Pump Tune-Up can also:
Improve efficiency and prolong the life of existing equipment
Ensure your unit is clean and has good air flow
Provide better temperature and humidity control
How does it work?
See the video below detailing
the measures & benefits.
CALL R.E. Boggs, Inc 434-984-HEAT (4328) to schedule your FREE Heat Pump Tune-Up